Dr. Shailesh Doshi
B.H.M.S., P.G.N.A.H.I.
+DrShaileshDoshi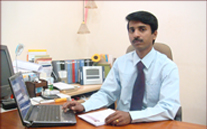 Dr. Shailesh is son of late Dr. Sharad Doshi who was one of the leading and busiest practitioners in Solapur District of his time. He completed his Graduation in Homoeopathic Medicine (B.H.M.S.), after that he was honored by Post Graduation (P.G.N.A.H.I.) from National Academy of Homoeopathy, India.
Dr. Shailesh was student of Dr. Kasim Chimthanawala who is considered as one of the pioneers of Homeopthy in India. He has worked very closely with senior doctors like Dr. Adil Chimthanawala, Dr. Sanjeev Mangrulkar and Dr. Raman Doshi who has great deal of influence on his work.
In the early years of his career, Dr. Shailesh also worked as an Assistant Physician at Sanjeevan Hospital, Pune where he got opportunity to work with some of the most experienced doctors in Pune.
Dr. Shailesh has been practicing homoeopathy for more than 10 years now and is specialized in treating wide range of acute and chronic diseases. He is the founder director of HomeoCure™ Homeopathy Clinic (formally known as Dr. Sharad Smriti Hospital & Homoeopathic Research Clinic). HomeoCure™ is a chain of clinics which has branches at Pune and Kurduwadi.
Apart from his private hospital, he is Honorary Consulting Homoeopath in Sanmati Nursing Home, Madha. His articles are being regularly published in news papers and Magazines like Jivan Utsah, Arogya Sampada, Niramaya.
Recently Vanoushadhi Vidyapeeth and PANACEA International Conferance honored Dr. Shailesh with International Excellence Award In Homoeopathy for year 2011. The award was presented by chief guest Mrs. Shailu Suresh - Director of Vedic Heritage, Singapore & adviser in Health Ministry, Singapore at PANACEA 5th International conference on Ayurveda and Holistic Healing Singapore 2011 held at Singapore on 4 Feb, 2011.